Secondary and tertiary markets are seeing the largest year-over-year increases in average U.S. airfares, according to a report released this week by CheapAir.com. The company assessed 128 million airfares in April in cities across the United States, it noted in the report.
Based on destination, the fare increases ranged from 14 percent at Manchester-Boston Regional Airport to 42 percent at Dayton International Airport. 
The study was released about a week after Airlines Reporting Corp. shared data showing the April average U.S. airfare had jumped 45 percent year over year and was the highest average ticket price it had been in the past seven years.
Higher airfares were foreshadowed early in the recovery based on carriers' schedule changes and route cuts, particularly in smaller regional markets, which favored leisure destinations since demand in the typically more lucrative business travel segment still was struggling to rebound. 
[Report continues below chart.]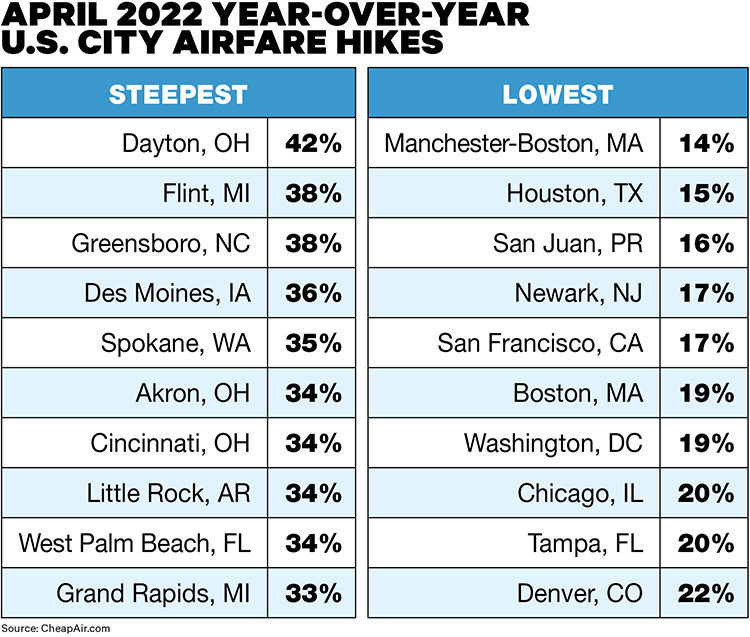 During an earnings call in April, United Airlines CEO Scott Kirby, when asked about its regional cuts, noted that the carrier was flying "dramatically fewer regional jets than in 2019, and we don't expect that to improve at all in the next few years," he said, adding that the company had about 150 regional airplanes grounded right now and "they're never going to come back, I assume."
Dayton, as well as Akron, Ohio, were on United's list of route cuts announced in March and were among the top 10 cities with the highest-percentage rate increases, per the CheapAir.com report.
United is not alone. American Airlines in November announced several route cuts, many of which included smaller markets. Delta Air Lines also trimmed 10 regional routes, according to The Points Guy, which included Des Moines, a city with one of the highest-percentage fare increases.
In addition to carriers drastically cutting their schedules during the pandemic and resuming service in larger markets first, regional pilot shortages are contributing to schedule changes in smaller markets. All three of the largest U.S. carriers, along with Southwest Airlines, JetBlue and Alaska Airlines, have noted the challenge in hiring pilots—or pilot instructors—which has led to route and schedule cuts. 
Further, Alaska Airlines' pilot union voted Wednesday to authorize a strike absent a new pilot agreement. Should that come to fruition, it could compound the negative affect on availability and higher fares to smaller markets.
Similar Posts: